AI smart silence cooling tower through long distance remote control system and controlled by phone or monitoring host(computer), realize control and detect the cooling tower water stage,running status,water quality,temperature and vibration.
Automatic stop protector will start if there anything abnormal for vibration, AI smart silence cooling tower can adjust energy saving control according to tower quantity and outside temperature automatically.
The company strives to develop, specializes in the production of ultra-quiet series of cooling tower products and focuses on environmental protection projects such as noise control. It has rich acoustic theory, vibration control, acoustic design and noise reduction practical experience, and strictly follows the "Environmental Noise Pollution Prevention and Control Law of the People's Republic of China" , in its series of products and cooling tower noise improvement projects on the market, the noise control effect not only meets the "Environmental Noise Emission Standards for Industrial Enterprises" and "Social Living Environment Noise Emission Standards" formulated by the state, but also achieves a high level of non-disturbing people . Prevent and control environmental noise pollution, protect and improve the living environment, protect human health, and create a green and quiet living environment for citizens.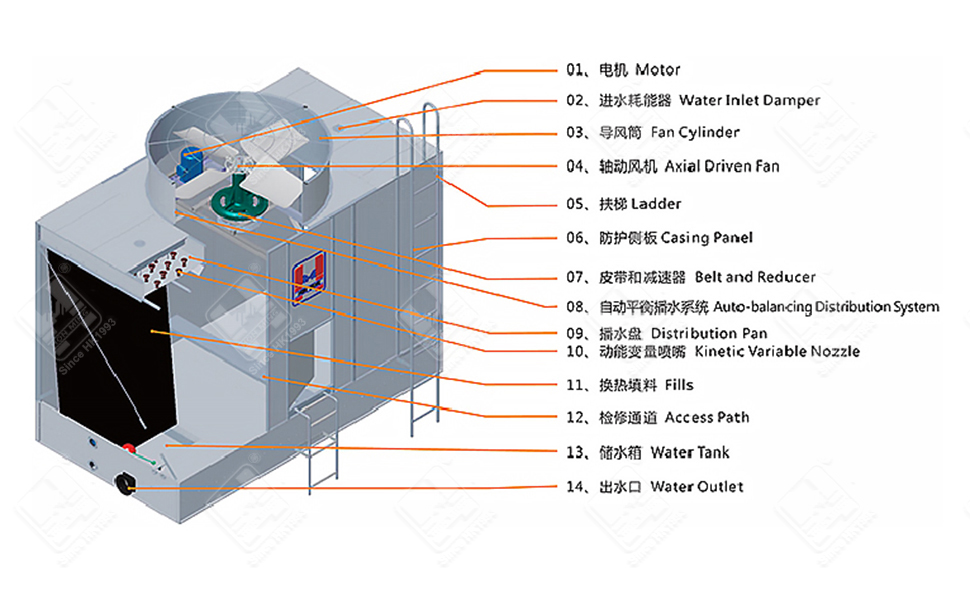 1.Ultra-silence and widest blade in the industry;
2.Noise Reduce 9~15dB(A) than standard fan;
3.Eliminates the blade passing frequency;
4.Tested by static balance and dynamic balance.
1.Suspended and built-in power system;
2.Effectively suppress and reduce the vibration;
3.Structural transmission;
4.Reduce noise impact on surrounding resident or buildings.
1.Imported high-quality updated and anti-frame P.V.C/PP;
2.Floating water loss rate is less than 0.001%;
3.Eliminating the pollution and noise design;
4.Anti-UV and anti-chemical corrosion.
1.Installed with a water drop silencing blanket;
2.Good noise control effect;
3.Good anti-flame effect;
4.Available 316/304 stainless steel.
1 The forging cover has sealing ring, totally sealed;
2 With groove rain-proof design;
3 Using life 3 times than normal motor;
4 The gravity of bearing design is in the upper.
1 With 3 bearings to avoid fall off to harm people;
2 Design down fix the centrifugal force;
3 The using life is 4-6 times than normal reducer;
4.Low mechanical noise, good lubrication and long-lasting lubrication.
1.Honeycomb structure of the inner panel;
2.Composite panel made of polyurethane foaming&galvanized steel;
3.Different perforation rates can hider the sound wave;
4.Improve the sound absorption coefficient.
Noise-absorbing air inlet shutters:
1.Shutters inside is cavity structure design;
2.Built in sound-absorbing device;
3 Outer with microporous sound-absorbing board;
3.Reduce water splashing and low-frequency noise.
1.Built-in cavity sound-absorbing device structure;
2.Outer with microporous sound-absorbing board;
3.Smooth air flow, strong noise reduction ability;
4 Reduce low-frequency noise impact the sound environment quality.