The inlet grille is made of corrosion-resistant PVC, and its dual-channel design prevents water splashing and reduces the possibility of algae formation inside the unit. The inlet grille around the sink completely encloses the entire sink and prevents direct sunlight from shining into the unit. At the same time, the grille has the advantage of low air resistance.
Difference between square closed cooling tower and traditional open cooling tower
The cooling water of the open cooling tower is in direct contact with the air for heat exchange, so it can not keep the purity of the cooling water system, and the cooling water will inevitably absorb the dust and bacteria in the air. The cooling water of the closed cooling tower flows in the coil, while the spray water and air are outside the coil, so the cooling water and the outside air are not in contact, which can keep the water purity running in the cooling system forever.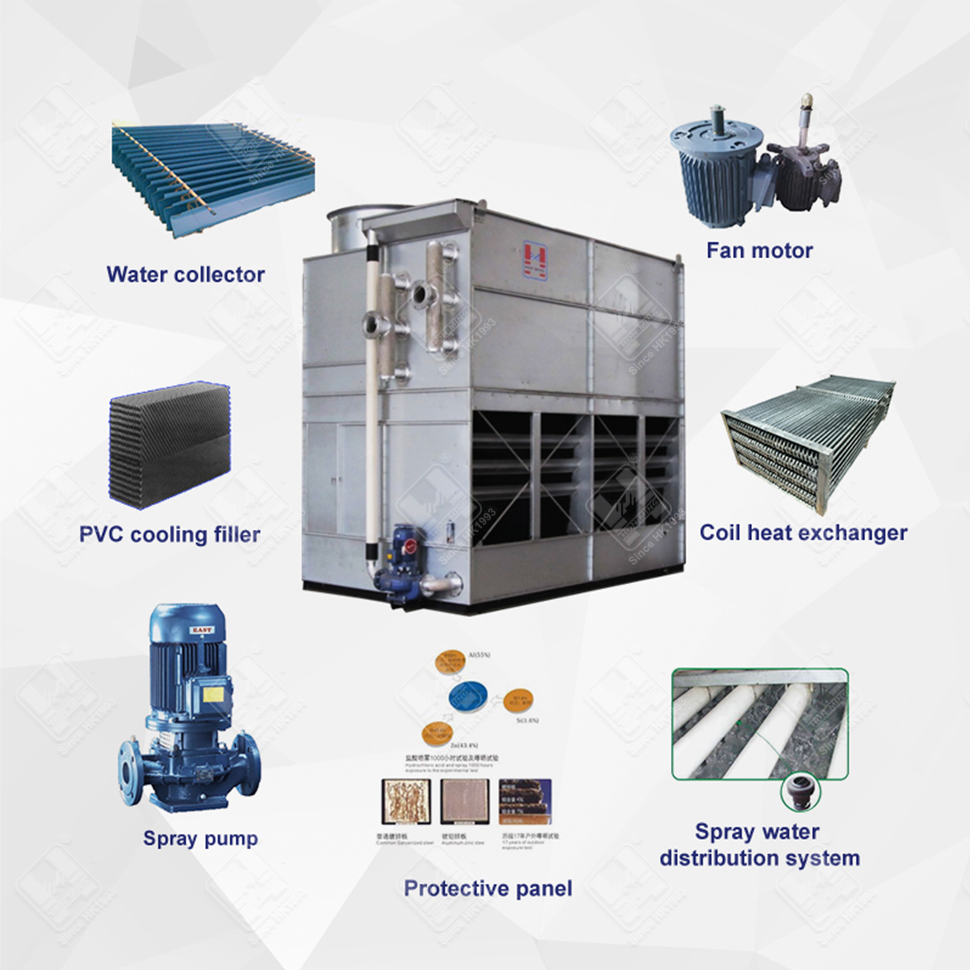 The coil made of purple copper or high-quality stainless steel;
Inside with cooling medium, and the outside with spray water cooling.
Low power; low head; large flow rate; low noise; no leakage; long service life.
Special motor for fully closed cooling tower;
Protection class: IP55, insulation class: F;
Adopt Japanese Samsung belt;
Optional: anti-vibration alarm device /global famous brand motor.
Frame structure, casing material
Using Magnesium Aluminum galvanized Steel import from POSCO,Korean,higher than the industry standard;
Super anti-corrosion performance can compare to stainless steel;
Processed bending cut place can self-healing and repairing properties;
Available use Stainless steel material according to customer needs;
Ladder,protecting cage and tower top guardrail (optional).