HON MING MD square counterflow cooling tower been years of thermal experiments, comprehensively processing the test data and referring to the national standard GB/T71901-2008. Choosing the best air-water ratio, Optimal spraying density, cross-section air load and filler height to determine the filler volume. On this basis use the viewpoints of fluid mechanics, aerodynamics, material mechanics, architecture and other disciplines. Comprehensively design the structure and shape of the tower, then calculate the ventilation resistance according to the test and also select the fan and motor according to the the requirements by referring to the fan characteristic curve. The cooling efficiency, energy consumption and noise of the entire cooling tower can achieve an optimized system design effect.
The square counter flow cooling tower have 3 kinds of materials: Stainless steel, zinc-coated steel and FRP to meet different clients requirements. Using 2 layer against and waterproof system to protect the whole sealed belt box. Low noise and uniform water distribution system.
According to the use requirements, HON MING MD series is divided into air-conditioning, industrial, high-temperature, and sewage type. According to the requirements of the site environment, you can choose the ordinary type, low noise type and ultra-low noise type. Each model has a different specifications for different circulating water treatment, which can meet the requirements of various clients.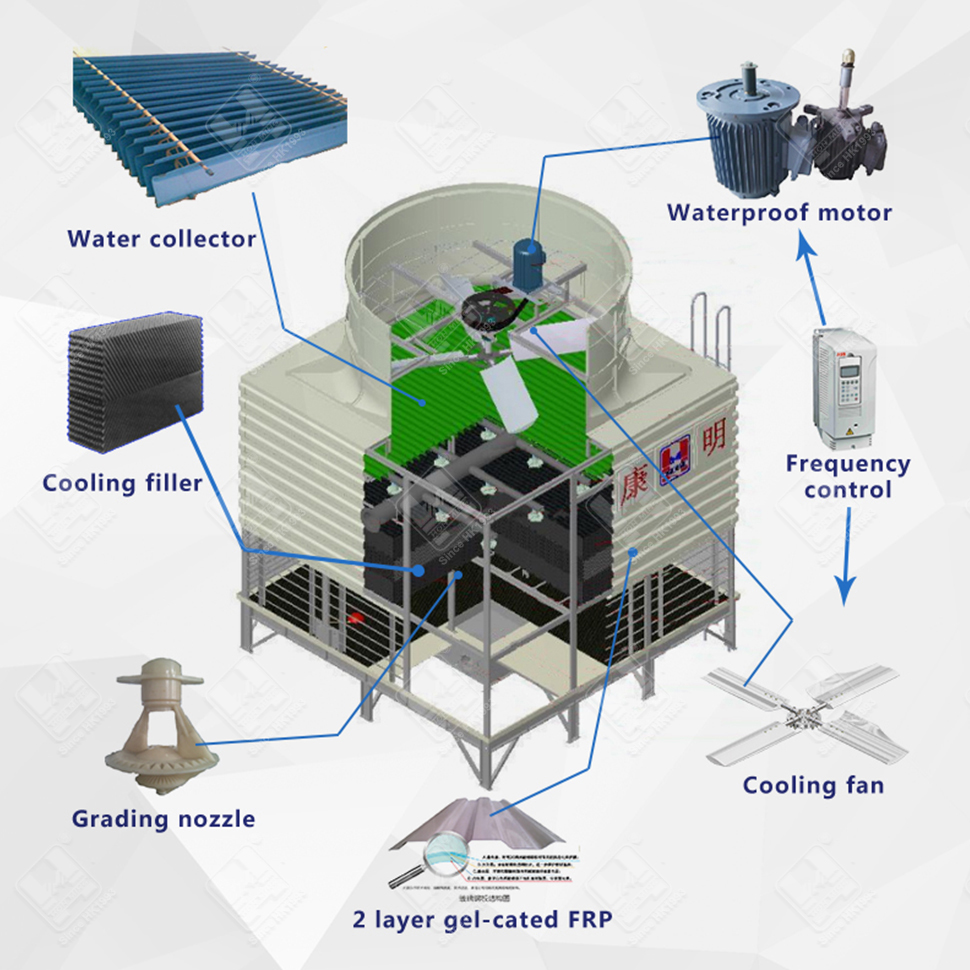 Special motor for fully closed cooling tower;
Protection class: IP55, insulation class: F;
Adopt Japanese Samsung belt;
Optional: anti-vibration alarm device /global famous brand motor.
The upper and lower ends are equipped with waterproof oil seals to avoid water  corrode the bearing;
Strict balance testing, smooth operation.
Magnesium aluminum Galvanized steel, wear-resistant, anti-corrosion;
prevent splashing,isolate dropped water noise;
Optional: High-efficiency air inlet grid;
The honeycomb design to ensure air inlet effect;
Anti-UV, prevents algae bacteria reproduction.
High-efficiency axial fan
Large air flow rate; large wide blade; high air speed; silent operation;
Anti-corrosion; Excellent stability; long service life.
Frame structure, casing material
Using Magnesium Aluminum galvanized Steel import from POSCO, Korean, higher than the industry standard;
Super anti-corrosion performance can compare to stainless steel;
Processed bending cut place can self-healing and repairing properties;
Available use Stainless steel material according to customer needs;
Ladder,protecting cage and tower top guardrail (optional).