"HON MING" HM full series of closed circuit cross flow cooling tower has passed by CTI certification. Both of single side, double side air intake, serpentine coil and high efficiency fling combination,there are up to 500 certificated models. The standard water flow max up to 650m3/hr. Standard SS304 coil adopt the most advanced serpentine coil continuous bending technology in China, with max pressure of 2.0 MPa. The cross flow design with open structure allows maintenance of flling, sprinkler system, and coil during operation. According to customer water quality and temperature requirements, there are different coil options (red copper, large diameter coil, straight through coil) and optional items.
Difference between square closed cooling tower and traditional open cooling tower
The cooling water of the open cooling tower is in direct contact with the air for heat exchange, so it can not keep the purity of the cooling water system, and the cooling water will inevitably absorb the dust and bacteria in the air. The cooling water of the closed cooling tower flows in the coil, while the spray water and air are outside the coil, so the cooling water and the outside air are not in contact, which can keep the water purity running in the cooling system forever.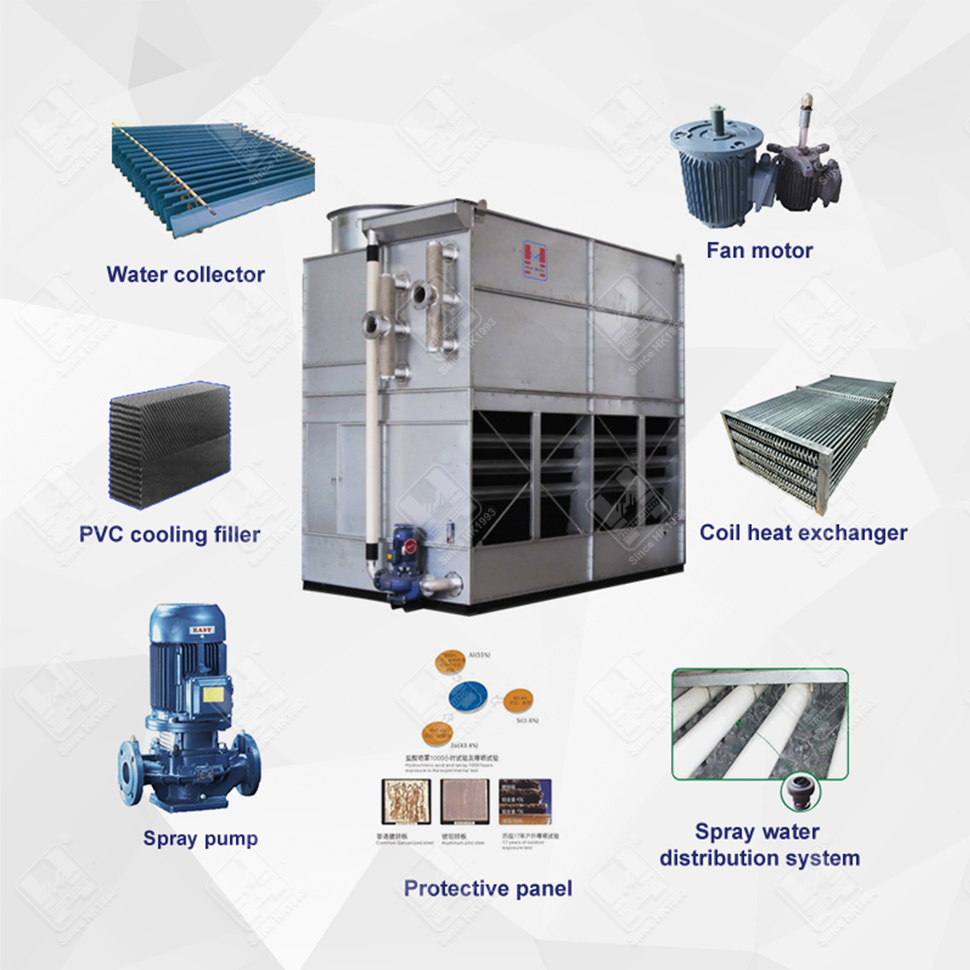 Standard SS304.
1 inch serpentine coil with continuous forming.
More diameter, thickness, and material options.
Zinc/Mg plate is higher than the industry standard.
Self-healing properties of bending and scratch.
Optional:SS304.
Optional: ladder cage&safety handrail.
Special cooling tower spray pump(Chuanyuan brand).
Large water flow, small pump head, high efficiency.
High efficiency axial flow fan
Adjustable Angle, stable air flow with high efficiency.
Corrosion resistance, excellent stability, long life service.
Various fan schemes can be selected according to noise requirements.
High efficiency heat exchange filling
Three-in-one for water eliminator, louver, and flling.
High quality PVC, B1 level anti-flame material, oxygen index >32%.
Adopt famous brand high quality transmission belt.
Full series CTI certification
Full series CTI certification, 198 models optional.