HON MING round cooling tower is designed for power and water saving in industry.We adopt fibre-reinforced plastic with features of light, low noise and high quality as raw materials. Not only match with high quality pure copper motor but also improve product's material selection and technology. It have more perfect users experience and good feedback.
For different requirement, HON MING also can manufacture all kinds of cooling tower, and supply lots of design and installed capacity to meet the needs of different client special cooling tower requirements. Such as low noise, ultra-low noise or AI smart control cooling tower etc.
Cooling tower is mainly composed by motor,fan,sprinkler head,PVC filler,casing,basing and air intake louver.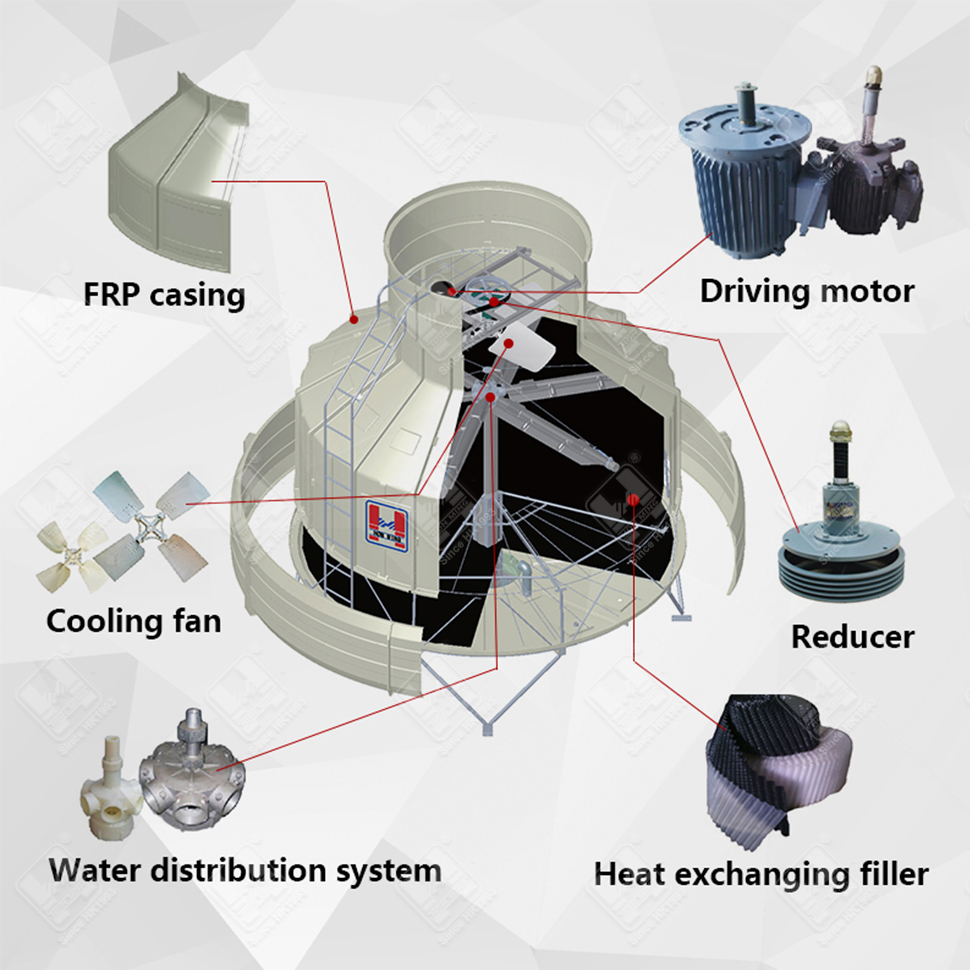 1.High quality Magnesium aluminum galvanized steel imported from South Korea
2.Super corrosion-resistant, self-healing.
3.Longer service life,15-20 years or more.
4.Using life is 3-4 times than normal galvanized
1.High quality FRP coating more than 3mm,others general 1-2mm.
2.Damp-proof, anti-corrosion, UV protection
3.The hydrophilic FRP is double-sided coat
4.Smooth surface and lotus leaf effect
1.Imported Japanese famous brand belt
2.Long using life
1 The forging cover has sealing ring, totally sealed.
2 With groove rain-proof design.
3 Wire connector with magnesium alloys technology, as good as stainless steel.
4 Using life 3 times than normal motor
1 With 3 bearing to avoid fall off to harm people
2 Outside with anti-corrosion treatment. Longer using life
3 Design down fix the centrifugal force
4 The using life is 4-6 times than normal reducer.
1.Imported high-quality updated and anti-frame P.V.C/PP
2.Anti-UV and anti-chemical corrosion through vacuum blister.
3.Floating water loss rate is less than 0.001%
4.PP heat exchange filling can afford to 95℃
1.Made of FRP, Aluminum alloy or Stainless steel
2.Tested by static balance and dynamic balance
3.With 2 layer design
4.The chord width is the widest in the industry.
Water distribution system
1 Adopt rotary tube type water distributor
2 Uniform water spraying
3 Water and air flow is reverse direction moving
4 Energy-saving and high efficiency